Discover more about "Pint-Sized Cutie" With Special Needs Hops Towards A Forever Home.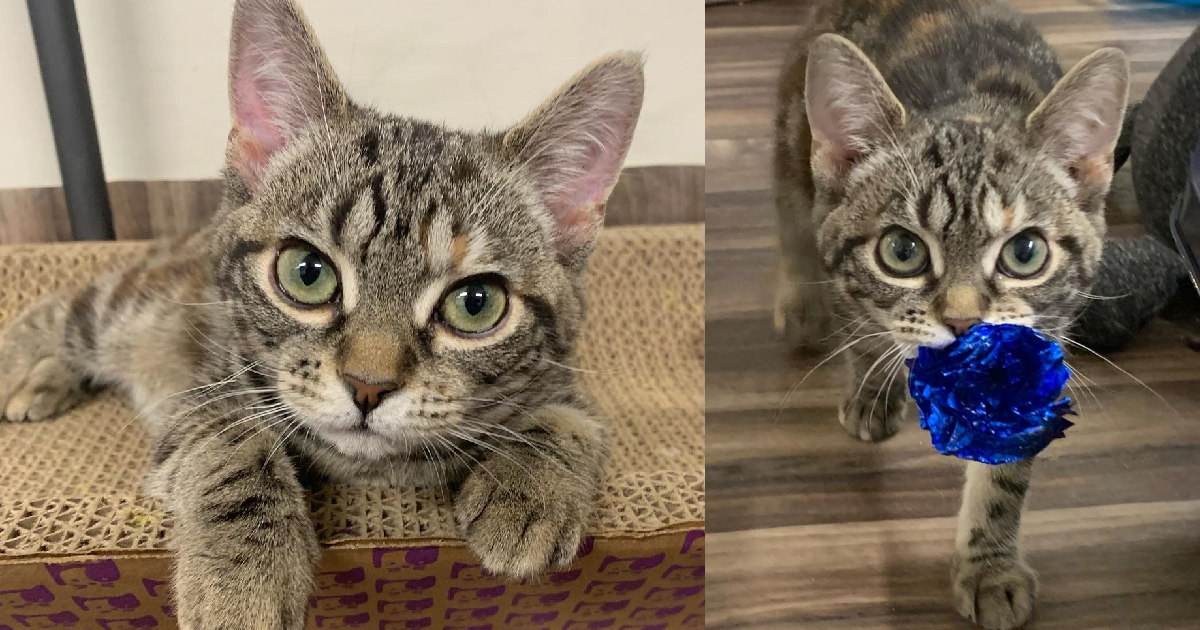 If you're reading this, then you've been captured by Huxley the kitten's adorable face and inquisitive eyes. And how could you not? Those beautiful peepers are almost as big as her!
The little torbie kitten with a stubbed tail has been described as a "spicy little spitfire" by Shannon Basner, head of Alaska's KAAATs. It's easy to see as Huxley's purrsonality shines through in pictures. Just look at the delightful mischief in those bright eyes!
All her spunk and sass has served Huxley well, helping the tortoiseshell-tabby shoulder through the issues at work in her little body. As a young kitten, Huxley was taken into Anchorage Animal Control (AACC) along with a large group of cats. Little else is known of her history, but what cat rescuers did know, Huxley was a sick kitten and needed lots of care.
After a few months of Huxley's health waning and waxing, the AACC discovered she was having urinary troubles and unable to go without help. To get the best care for the tiny torbie, Shannon told LoveMeow, "They reached out to us to see if we could bring her into our Mojo's Hope program as our mission is to assist animals with special needs."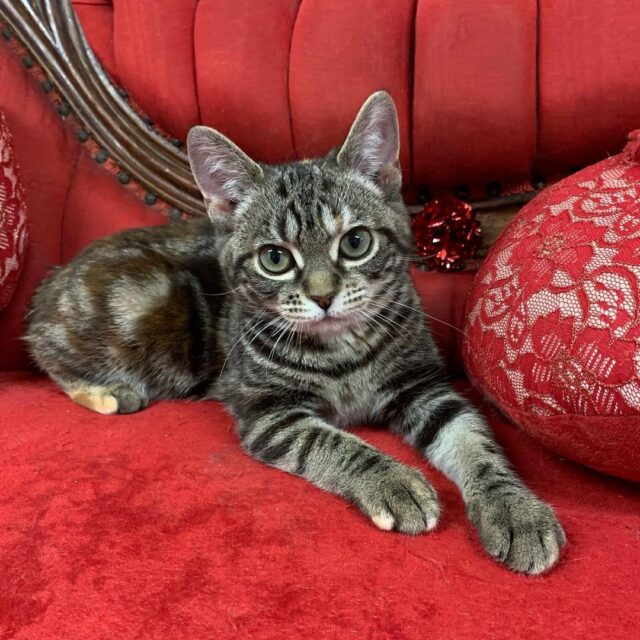 Of course, Shannon welcomed the feline baby with open arms. And when Huxley headed over from the shelter to her new foster mom, the AACC "sent her off with all of her goodies, a cat tree, scratchers and her favorite toy."
Huxley settled into her new routine with Shannon quickly, learning the new scents, enjoying the good food, and stinking up the litter pan happily!
One Tough Kitten
Due to her small size, Huxley was believed to be about 4-months-old when she came to Shannon's care. But the kitten was displaying behaviors marking her as older. An infection that developed also furthered the confusion about her age, and after consulting with the vet, Shannon learned baby Huxley was indeed around six months old.
Between antibiotics and a spay surgery, Huxley is fighting hard to kick the infection while Shannon and the vet are learning more about the kitten's issues.
As Shannon told Love Meow, "The vet also took some X-Rays so we could take a look at her spine to see what may be causing her incontinence which is most likely something called Manx Syndrome."
Manx Syndrome occurs when the gene that brings about the nub tail of the Manx can cause cats to be born with a shortened spine. Such an issue has the possibility to affect cats with a host of problems, including the incontinence issues plaguing stub-tailed Huxley.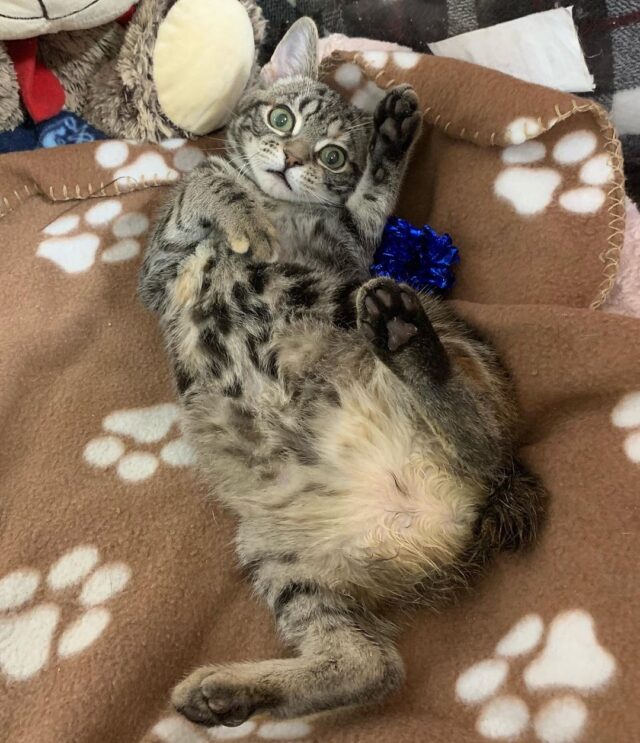 Huxley needs help taking care of urinary business several times a day. Shannon assists her in staying nice and clean so she feels good while she plays. And Huxley loves to play!
"For a pint-sized cutie, she is larger than life itself. Her charm emanates when she plays with the crunchy ball, the laser light or her most favorite, the squishy ball."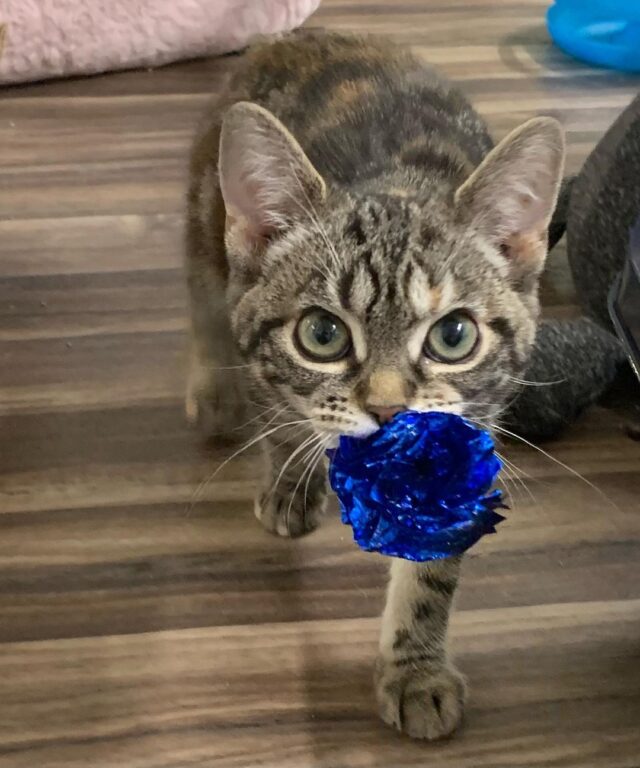 As she's terrorizing the toys, Huxley's shortened spine also causes her to hop around on her back legs, but nothing slows this adorable torbie cat down! Though small for her age, this playful kitten has the heart of a lion. And despite her rough beginnings, she has so much love to give.
On the Road to a Forever Home
Shannon is "hopeful" when it comes to Huxley finding her family, feeling "she will be able to choose a loving, forever home – a home that will be willing to bring her into their hearts, understand her unique special needs and provide her with the lifetime care she needs to stay happy and healthy."
Follow Alaska's KAAATs on Instagram and Facebook to watch Huxley's journey to a forever home.
H/T: www.lovemeow.com
Feature Image: @alaskaskaaats/Instagram
The post "Pint-Sized Cutie" With Special Needs Hops Towards A Forever Home appeared first on iHeartCats.com.