Discover more about Feline Curiosity Solves Mysteries In 'Peace Island'.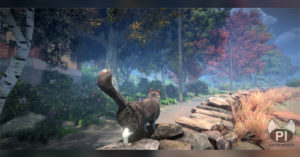 Get ready, cat-loving gamers. The gaming world will soon welcome a new game for fans of felines. The cats of Peace Island need your help solving a mystery. Why have all the humans on the island disappeared? Where did they go?
Players will solve the mystery from the perspective of one of nine different cats roaming the open-world setting. Like cats in the real world, Peace Island cats encounter danger in the form of other animals, but players can "gain their confidence to unlock new side quests, and ensure safe passage through their lands." With diverging storylines, game play leads players and the cats to decide "Are the humans worth bringing back?"
Available for PC, Mac, and Oculus VR systems, Peace Island is "a non-violent interactive story which will focus on discovery, atmosphere, and exploration, rather than combat," according to the game's Patreon page.
"A mix of science fiction, alternative history, and mystery", the game offers four major settlements as well as dozens of other sites. "These will include homes, shops, abandoned ruins, museums, and some that I don't even want to disclose here (SPOILERS…)"…
Funded by Players, For Players
Eric Blumrich, the "wildly optimistic Gamedev behind Peace Island, "aims "to expand the emotional palette of gaming, and bring a bit of creativity back to an industry obsessed with monetization, loot boxes, and exploiting properties that have long since ceased to capture the imagination."
This independent spirit saw Eric and game-partner Laura working diligently on their own to craft Peace Island. The budget for the game was a meager one to begin with, only allowing the pair funds to sometimes hire a coder or animator to help out. But once the crowd-funded game received media attention, donations and excited gamers eager for the release of the cat-themed game have allowed the creators enough money to hire more full-time coders. The team remains small but boasts incredible talent with some of the creative minds that worked on Prune and Grand Theft Auto V.
Interested gamers can ask questions in a Live Q&A as well catch a review of the development process in a Peace Island Live Stream.
Of the game, Eric said, "Peace Island is also a personal homage to the beauty of Maine Islands, and to the cats who I have been lucky enough to meet and share my life with."
To those who love cats and gaming, stay tuned…
The beta version of Peace Island is scheduled for release in 2020.
H/T: Unilad
Feature Image: Peace Island/Patreon
The post Feline Curiosity Solves Mysteries In 'Peace Island' appeared first on iHeartCats.com.