Discover more about Dr. Leon, Lawyer Cat, Knows How To Work The System.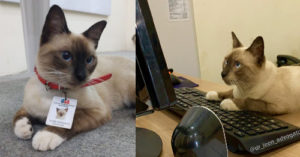 Stop! In the name of the paw…
Dr. Leon the lawyer is arrestingly adorable and his story serves as proof of the kindness in the world.
The former street cat turned law expert and advocate calls the Order of Attorneys of Brazil home. But he didn't always have the luxury of comfort and security. Leon began life on the streets of Brazil, hungry and alone.
In his wanderings about the city of Macapá, Leon was forced indoors by heavy rains. His haven belonged to the offices of the Order of Attorneys Brazil.
Given food and a box for waiting out the storm, Leon found the reception area comfy and decided to hang out. He quite enjoyed greeting visitors. Sadly, some people weren't a fan of the blue-eyed purrpetrator and filed complaints. But, as some tend towards intolerance, others are kind. Taking action to keep Leon in residence, the OAB hired the street savvy Siamese mix.
Leon began his career as a greeter, but he was so good at his job, he soon earned a promotion. Turns out Leon is a purrfect lawyer. He sports a tie to support his professional image and if anyone hassles him, he flashes his work badge at them.
But no one gives Dr. Leon trouble anymore. He's won over his doubters with due diligence and cute whiskers. "Today, he is very dear to everyone. Even those didn't like him got used to his presence and have fun with him. His favorite place is President Auriney's sofa; he loves to play with his toys," Leon's representative told Bored Panda.
Cat Law Shark, Abused Animal Advocate
Once a member of the staff, Leon was taken to the vet and during his checkup, damage to his vocal cords was discovered. The vet believes the damage was a result of cruelty Leon suffered as a kitten. He's a quiet boy because of this, but loved nonetheless.
His suffering inspired his coworkers to form an animal rights institute in Leon's name. Since the OAB can't hire all the strays in the city, the Instituto Dr. Leon funds nonprofit organizations helping homeless and mistreated animals in Macapá and throughout Brazil.
Leon has come along way from hungry street cat, but he promises to always remember his beginnings and "help abandoned and mistreated animals". Dr. Leon and his devoted staff are heroes to felines across the world.
H/T: Rover.com
Feature Image: @dr_leon_advogato/Instagram
The post Dr. Leon, Lawyer Cat, Knows How To Work The System appeared first on iHeartCats.com.