Discover more about Beach Please! Pumpkin The Cat Doesn't Care For The Salty Breeze.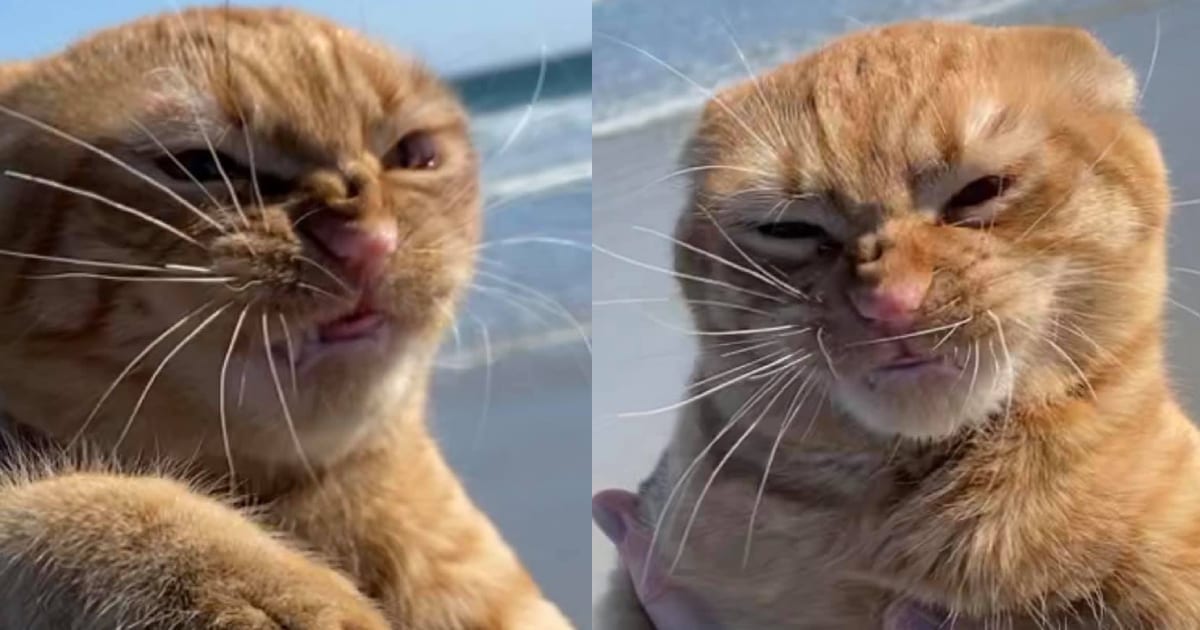 It'd be no surprise to hear a cat's favorite thing about the beach would be all the sand they can dig in. And by that reasoning, we could probably figure the feline's least favorite thing would be that huge expanse of water. But one kitty is proving our guesses wrong when it comes to what he loathes about the beach.
Pumpkin is fine with tempting the tides with his toes, but it's the salty breeze in his face he can't stand!
The images of Pumpkin looking rather angry at the wind are making us laugh, but this ginger boy wants us to know he's not as grumpy as his pictures make him seem. Except on windy days, then yes, he is less than pleased!

PumpKin the Cat official/Facebook
Family Man Pumpkin
When he was but a wee baby, Pumpkin stood out from his littermates as the only ginger in a pile of kittens. Foster mom Tia fell for him pretty quickly and Pumpkin soon became a foster fail. As her tiny tiger grew, he was the cutest little guy with a bumbling way about him.
Pumpkin was discovered to have a mild case of cerebellar hypoplasia, a condition that causes improper development in the cerebellum. It can range from very mild to severe, and fortunately, Pumpkin's case is a mild one, only tripping up his coordination in minor ways.
His mom explained, "He looks more like he trots than runs, his front paws up one at a time."
"We say he's clumsy like a puppy."
He may have a little wobble to his way, but that doesn't stop Pumpkin from having a good time.
He and his brother, Moustachio, enjoy adventuring with their family. On his Instagram page, Pumpkin shared, "I love going in the car to new places."
He's enjoyed some hiking and kayaking, where he's encountered waterfalls and tall grasses where he got to play chameleon cat. And, Pumpkin recently took his first trip to the beach!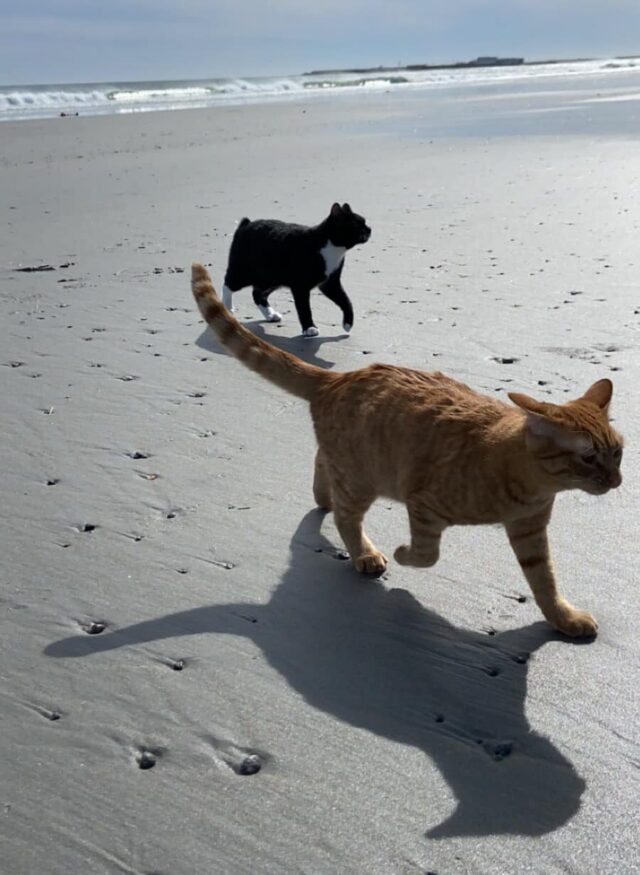 PumpKin the Cat official/Facebook
The Wind Can Be a Real Beach
On the seashore, Pumpkin and Moustachio had so much fun frolicking in the sand beneath the sun. But then a surprise whipped Pumpkin in the kitty face and he did not like it!
"He actually really loved the beach but we soon found out he didn't love the wind," Tia shared. "The faces he was making, we'd never seen anything like it before, so we were taking pictures and videos."

PumpKin the Cat official/Facebook
Pumpkin's comment on encountering the wind? "Ou I hates the windzzz"!
That face certainly reflects his feelings!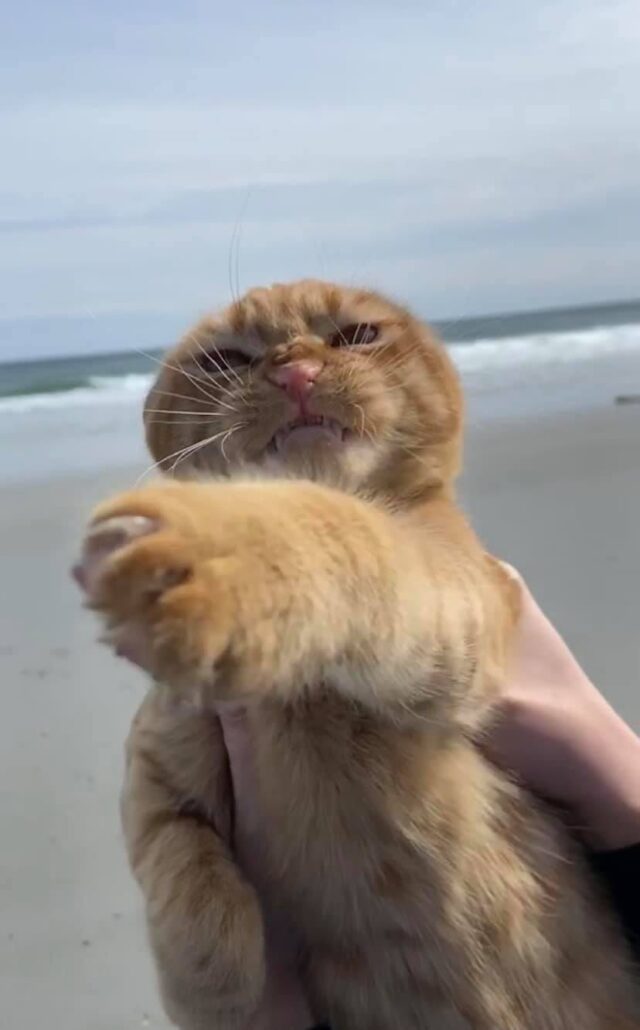 PumpKin the Cat official/Facebook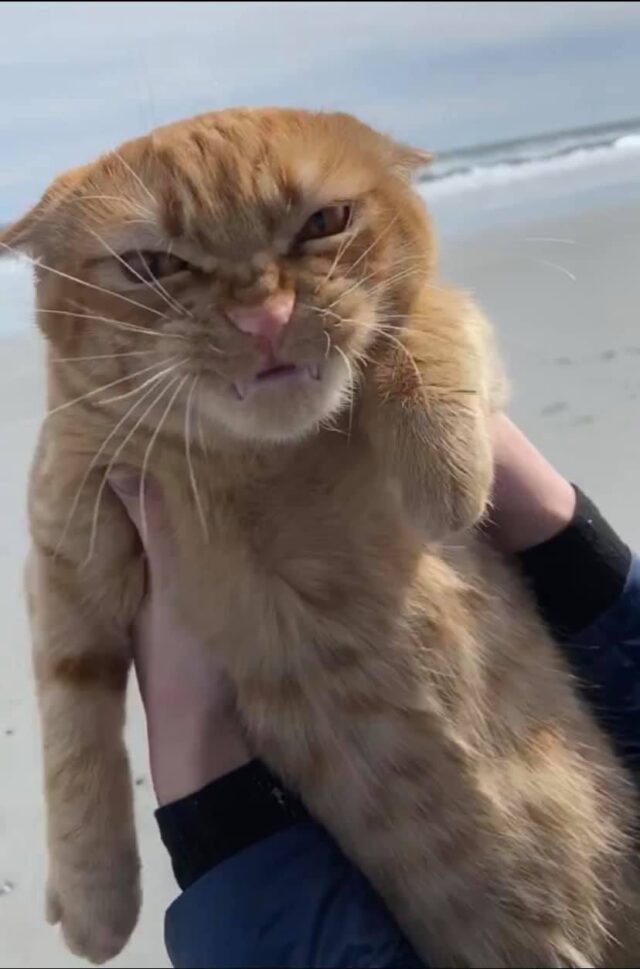 PumpKin the Cat official/Facebook
Though he's become famous for that face, Pumpkin wants to reassure everyone he's truly a "very nice guy".
We believe you, sweet Pumpkin cat!
H/T: www.thedodo.com
Feature Image: PumpKin the Cat official/Facebook
The post Beach Please! Pumpkin The Cat Doesn't Care For The Salty Breeze appeared first on iHeartCats.com.