Discover more about 20-Year-Old Deaf Cat Surrendered For Being "Old" Gets A Forever Home In No Time.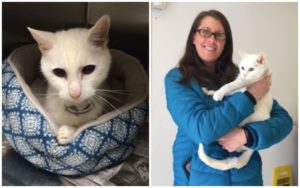 Most of us would consider it a blessing to have a cat for 20+ years. Now, imagine having a feline friend that long…and then deciding to give him up just because of his age. That's exactly what happened to poor Rascal.
20-year-old Rascal, who's deaf, was brought to the Spotsylvania Animal Shelter in Fredericksburg, Virginia "for being 'old' and having accidents in the house," the shelter explained on Facebook.

"Rascal had been with this family for nearly his entire lifetime and is understandably quite confused," they added, hoping that this sweet senior wouldn't be stuck in a shelter environment for too long.
Luckily, their appeal worked because the very next day, a big-hearted woman named Meredith decided to bring Rascal home!
"I was scrolling last night and saw him. He just pulled on the right number of heart strings,"she said in a story by Love Meow.

"I just couldn't stand thinking about him spending another night in a shelter," she added.
The staff at the shelter couldn't be more thrilled to see Rascal get his happy ending – a real forever home.
"…HUGE thanks to his new mom, Meredith, for opening her heart and home. And to Meredith's husband for loving Meredith enough to agree to let her bring Rascal home:)," they wrote.
What's more, the cat mom shared that he's "settling in nicely" to his new home!
Meredith told Love Meow that they had an upcoming vet visit to remedy a few of the kitty's health issues so he can live the healthiest, most comfortable life possible.
"However his story ends, it definitely will end with me," she said in the story.
(h/t: Spotsylvania Animal Shelter / Love Meow )
The post 20-Year-Old Deaf Cat Surrendered For Being "Old" Gets A Forever Home In No Time appeared first on iHeartCats.com.